About VTS-Invest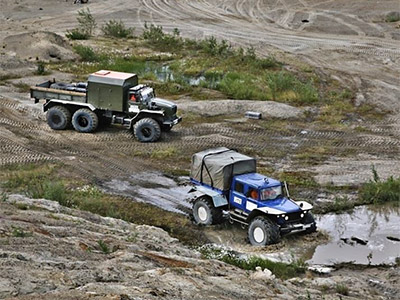 Limited Liability Company "VTS-Invest" is engaged in the development and production of All-Terrain Vehicles (hereinafter ATV) with large-size low-pressure tires, provides training of drivers for ATV operation, carries out the ATV maintenance, as well as warranty and post-warranty repairs.
All-terrain vehicles are designed for transportation of goods, people, transport modules, technological equipment on off-roads, snowy virgin lands, tundra, swampy terrain, loose sand and other weak soils, without damaging the vegetation cover and fertile soil layer, in super-heavy traffic conditions characterized by complete absence of road surfacing and severe geographical, physical and climatic conditions.
At the moment, our ATVs of various modifications and appointments are operated by Oil & Gas Sector enterprises in the Far North of Russia (Khanty-Mansi Autonomous District, Komi Republic, Perm Krai, etc.). Given that the ATV design provides the ability to install various special equipment, our products can meet the needs of a wide range of customers.
The VTS-Invest ATVs were awarded the diplomas of Integrated Safety and Security Exhibition, International Exhibitions "Surgut. Oil & Gas", "Interpolitex". They had also been presented and highly appreciated by specialists at several practical demonstrations for representatives of concerned companies and authorities, including: Oil & Gas companies, the Ministry of Defense, the FSS, the MIA and the Ministry of Emergencies of Russia.
Individual design works
Studies and tests carried out by VTS-Invest jointly with Bauman Moscow State Technical University have shown that the most effective area of work in the field of off-road traffic is the creation of transport systems based on wheeled ATVs with special large-sized, low- and ultra-low-pressure tires.
VTC-Invest additionally carries out the development and manufacture of ATVs in accordance with the customer goals and at the customer's request. All developments of the company are protected by patents for utility models and inventions.
Constant work is being carried out to create the new models of ATV, including the usage of movers with tires up to 1100 mm wide (type SB-1) of class 8x8 for transporting heavy technological equipment and class 16x16 for off-road transporting indivisible cargo weighing up to 60 tons.
At the moment, such product samples are being tested and put into batch production.